The next generation search is here
Over its two-decade history, retail search has made a tremendous journey from its roots in naive, full text search to the current search systems which combine a concept-oriented retrieval approach with sophisticated ranking formulas based on a combination of statistics and business signals. Those systems are aided by a variety of machine learning models which help with query intent classification, spelling correction and the re-ranking of top search results.
Right now, the retail search industry is experiencing a new wave of innovation powered by two key factors: deep learning-based natural language processing and web-scale customer behaviour data accumulated by leading cloud providers.

Semantic Vector Search in a nutshell
Next generation search engines leverage a semantic vector search approach. With this method, both customer queries and catalog products are represented as vectors in a high-dimensional vector space, called semantic vector space.
A well-trained deep learning model maps queries and products to this semantic vector space in such a way that queries are placed close to most relevant products.
This makes it very simple to answer search requests; all you need to do is map the query to a vector space and find all the products in the immediate neighborhood.
Read more about semantic vector search here.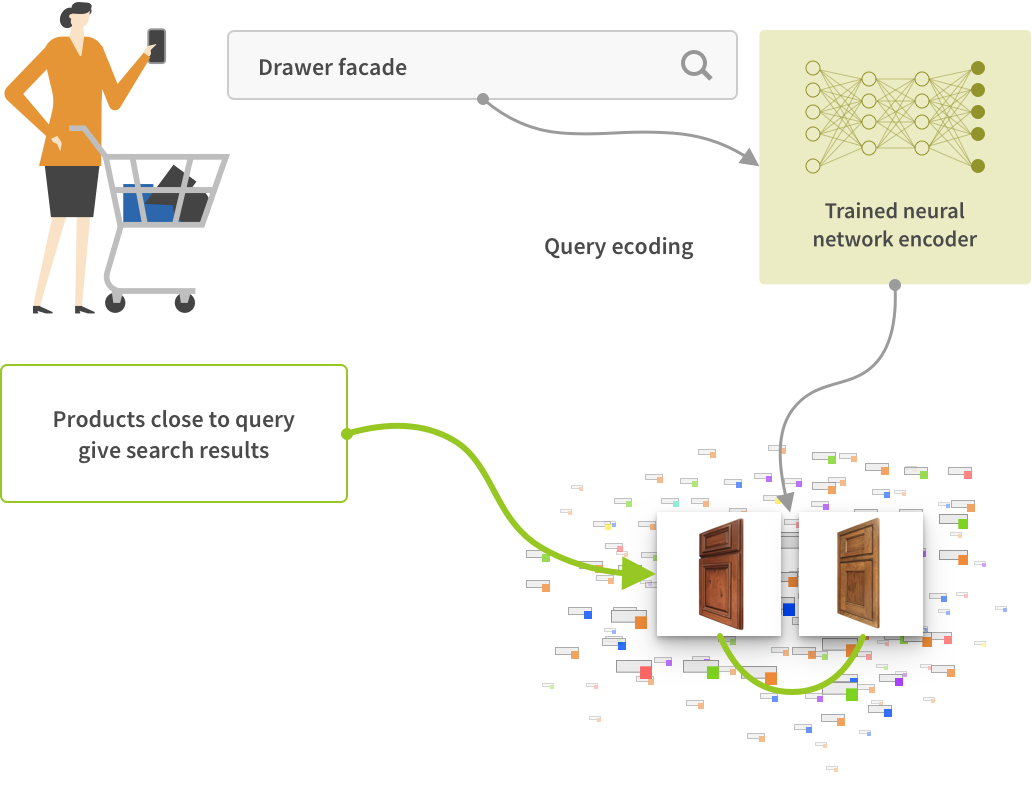 Microsoft Bing for Commerce
Microsoft Bing for Commerce is the next-generation retail search engine that combines state-of-the-art deep learning models with the vast amount of shopping behavioral data accumulated by Bing for Commerce and Ads.
This allows the search engine to correctly respond to out-of-vocabulary and symptom queries where traditional word matching techniques would be helpless.
In addition to deep learning models, Microsoft Bing for Commerce's superior query understanding is powered by the Bing knowledge graph, which helps to correctly interpret the meaning of both product data and customer queries.
Microsoft Bing for Commerce employs a cascade of engagement-based rankers that can be directly trained to desired business outcomes, such as click-through ratio, average order value, conversion rates or a combination of those.

Query understanding
Meaning-based interpretation of queries
Understanding synonyms, slang and abbreviations
Understanding of symptom queries
Spelling correction and "Did you mean?"

Engagement-based ranking
Ranking optimization for business goals
Self-learning close-loop ranker
Training both on customer and web-scale data
Custom ranking models

Autocomplete
Completion by popular search phrases
Completion by catalog concepts and categories
Completion of misspelled phrases
Engagement-based suggestion ranking

Guided navigation
Automated facet selection and ranking
Category browse mode
Custom sortings (price/newness/popularity)
SKU hierarchies and bundles

Merchandising & Customization
Boosting/burying rules with sophisticated conditions
Sponsored products and redirects
Pinned products and facets
Self-service portal

Personalization
Order-history based personalization
In-session personalization
Bing user history-based personalization
Product recommendations

Ingestion
Flexible data schema
Full and partial catalog data streaming
Partial product data updates
Open ingestion framework

Analytics
Monitoring for queries and ingestion
Alerts
Query analytics
Bing insights and competitive analysis
Grid Dynamics is a Microsoft Bing for Commerce Integration Partner
Recognized as the leader in retail search solutions, Grid Dynamics has a decade of experience running search replatforming programs with Fortune-500 customers. We have helped several tier-1 retailers, including iconic brands, in their migration to next-generation search engines.
We utilize deep understanding of the retail search and product discovery domain, expert knowledge of the Microsoft Bing for Commerce platform and an effective agile delivery model to complete integration projects with minimal risks and in the shortest time possible. We can help with every step of the integration journey and drive it to have a real, measurable impact on business.
Analysis
Evaluation of the existing search
functionality & quality
Assessment of existing search
ecosystem
Gap analysis and opportunity
assessment
Business impact of the next-gen
search solution
Design
KPIs and customer
experimentation approach
Design of necessary data streams
Design of search services
integration
Design of customer engagement
data processing
Implementation
Product data mapping,
enrichment and transformation
Catalog indexing data pipelines
and change streaming
Streaming of customer
engagement data
Integration with existing search,
recommendation and
autocomplete APIs
Migration of merchandising/
business rules
Launch and traffic migration
Customer experimentation and A/B testing
Query traffic routing and migration
Search results tuning
Data analytics
Integration blueprint: search services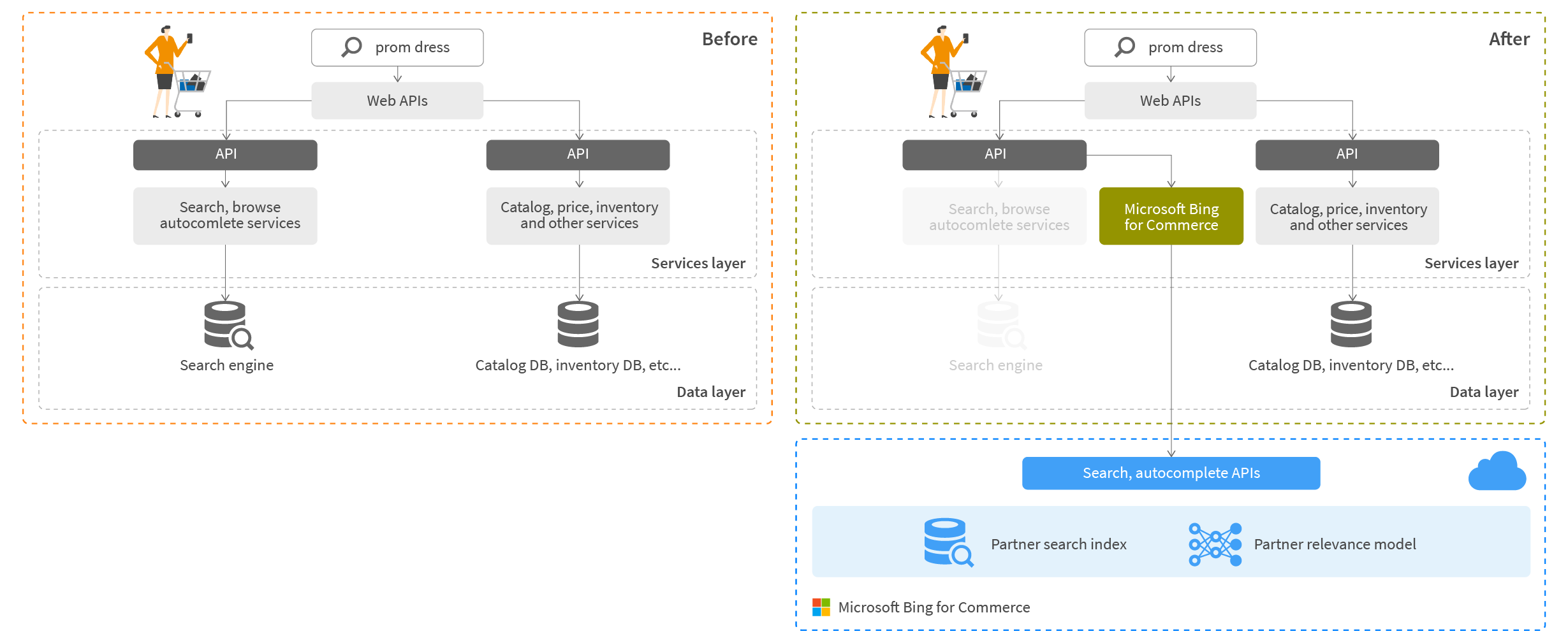 Integration blueprint: data sync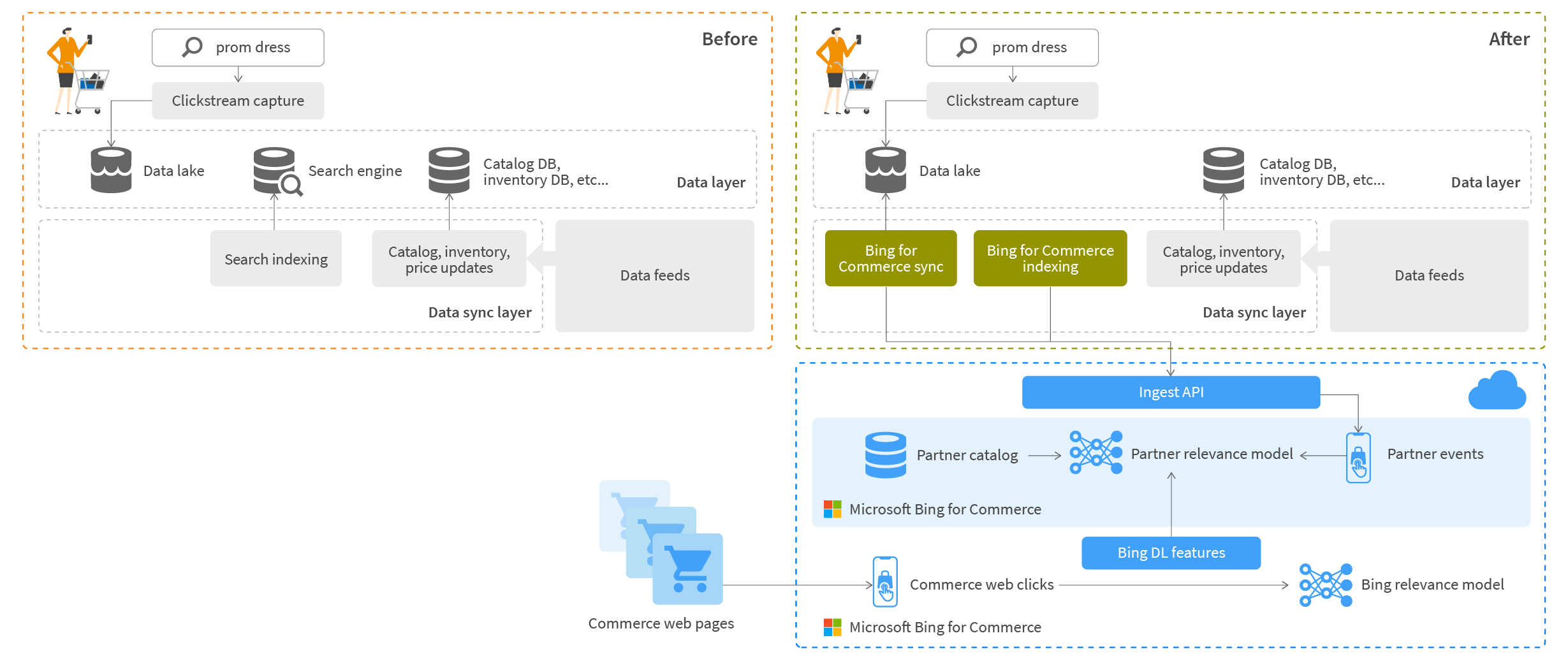 The next generation search is here. For you.
If you would like to explore some of the options and benefits available to you, we will gladly help by running a search quality assessment of your service or holding a search architecture workshop.
Free of charge and with no obligations.
Interested?
Please fill out the form and we will contact you shortly.