Cloud infrastructure is the new standard
Every company has their own reason to move to the cloud. Most need to increase innovation speed and efficiency by implementing DevOps and continuous delivery. For these companies, the cloud helps to break free from ticketing systems to provision a server and months of waiting times until the server becomes available and in the right configuration. Some recognize that right usage of cloud helps to decrease IT costs by utilizing on-demand capacity and clear pricing models. For others it is a matter of old datacenter leases getting expiring and getting into new multi-year contracts is not an option. For the rest it may be a board-level decision due to a combination of reasons above.
Whatever the reason, moving to the cloud can be a painful process if you lack the right experience or don't possess a reasonable timetable. We help our clients reduce the risk and make the process easy.
10+ years of experience of working with the cloud
An expert in distributed applications and grid computing since its foundation, Grid Dynamics was an early adopter of the public cloud. In 2008, we implemented scaling of in-memory-data-grids on the AWS public cloud infrastructure, which was one of the biggest experiments with the public cloud at the time. Since then, we have used public cloud vendors for various use cases. In 2009, we began using the cloud for large enterprises to dynamically provision test environments. Since 2011, we have used the cloud for production deployments, growing in scale from several services to massive deployments with hundreds of services and thousands of VMs by 2016. As more cloud providers started service offerings, we added Google Cloud, and Microsoft Azure to our portfolio along with Amazon AWS.
We now help both large and small enterprises move their workloads to the public cloud. While our focus has always been on designing cloud-native applications, we also help companies move brown-field applications to the cloud, changing them appropriately so that they can become cloud citizens. Additionally, we assist traditional IT and security teams in embracing the cloud, redesigning procedures and tooling, while remaining compliant with internal policies and external audit requirements.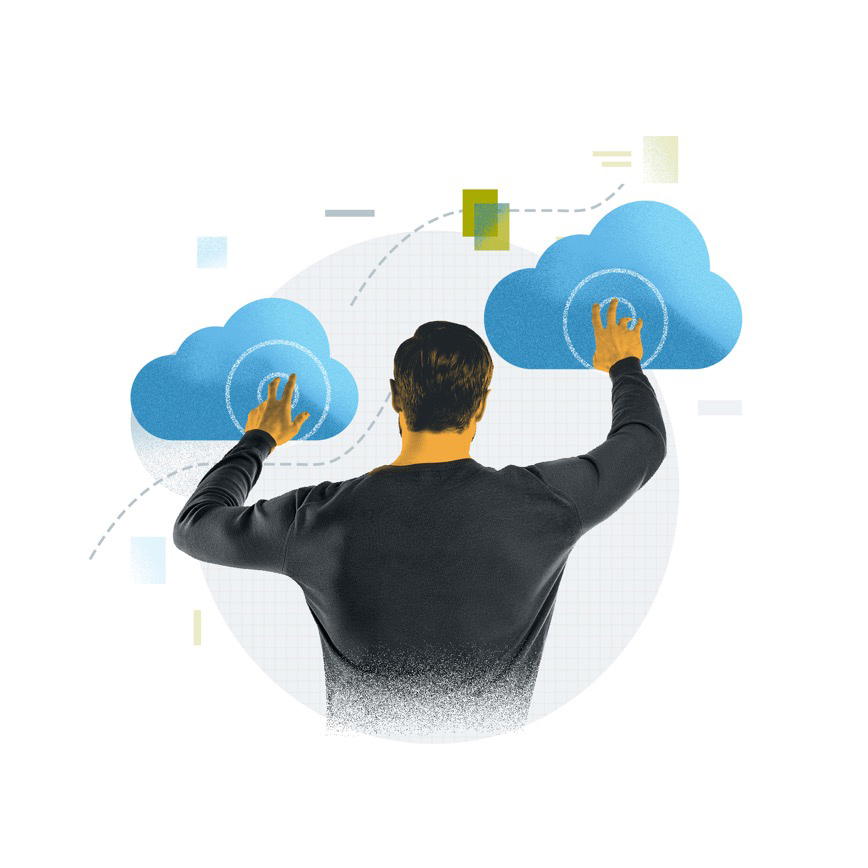 Our approach to cloud migration
Find the first applications to migrate
It is best to start cloud adoption with the applications that can benefit the most from a cloud infrastructure. On the high-level, we look for applications that:
Are loosely coupled with the rest of the system.
Have plans for significant changes due to functional or performance requirements.
Can take advantage of dynamic scalability and on-demand cloud resources.
Have component licenses that are expensive and can be retired after migration.
Choose the best cloud provider
Our approach to evaluation begins with analyzing the application portfolio that will be hosted in the cloud and the technology stack that the company is working with, and then matching them with the cloud vendor that offers the best features and price. It is usual that a company onboards several cloud vendors because of business continuity, pricing or features.
Another important choice companies must make is whether to go with a cloud agnostic architecture, or use proprietary cloud services and take the risk of vendor lock in. After the initial choice of the provider, we help IT departments with initial onboarding, including analysis and setup of networking, cloud projects, security and budget policies.
Maximize value and compliance
A dangerous pattern in cloud adoption is hiding cloud APIs from users, and continuing to use ticketing systems as a facade to request provisioning or configuration of infrastructure resources. While this provides the best control over access, budget and configuration, it prevents teams from adopting DevOps and SRE best practices.
Instead, we help IT departments configure IAM policies so that the access to the cloud API can be given to the application development and support teams, while complying with internal change management, networking, security and budgeting policies, as well as external audit requirements.
Embrace the cloud within the enterprise

Cloud vendors we work with
Approach and engagement model
We use a systematic approach to cloud migration that involves analyzing the client's business context to figure out which of their applications would get the most benefit of migration, as well determine their needs. We then focus on onboarding cloud vendors, helping IT departments establish proper connectivity and security, and protecting cloud APIs with IAM policies. After the base setup is complete, we assist with the migration of applications, which often require replatforming or an adjustment to the cloud, and help build a microservices platform.
Our engagement with new clients typically starts with a series of workshops and an architecture consulting phase that takes anywhere from two to six weeks. The outcome of this architecture consulting is an analysis of migration goals, identification of the first application candidates for migration, creation of blueprints for cloud infrastructure and deployment and a proposal of the migration implementation program charter.
Read more
Why retailers should move from the Oracle ATG stack to the cloud and microservices