Every modern business is technology-driven
To survive and prosper in the modern digital world, companies have to transform and innovate in order to match their digital-first, technology-driven competitors. Traditional IT departments must embrace digital transformation by moving towards lean and Agile approaches to software development. Recent studies have shown that when a company's technology department performs well, the performance of the entire organization improves.
Successful technology organizations generally possess a strong culture built on the use of efficient and effective processes, which allow new features to be developed and released quickly and reliably. Firms looking to upgrade their change management process and tooling must invest in building these Agile processes and DevOps teams in order to achieve continuous delivery.
Operating in the areas of agile, DevOps and continuous delivery since 2008
Our first step in moving towards continuous delivery was establishing the proper culture and processes for internal development. In 2010, we started providing CI/CD service offerings due to popular demand from our clients. Now we have hundreds of architects and engineers working directly with our clients to build the culture, organization and team structures necessary for continuous delivery, as well as automate every aspect of application development, testing, deployment and production operations. We have helped both large and small clients in various industries transform and change the way they build software.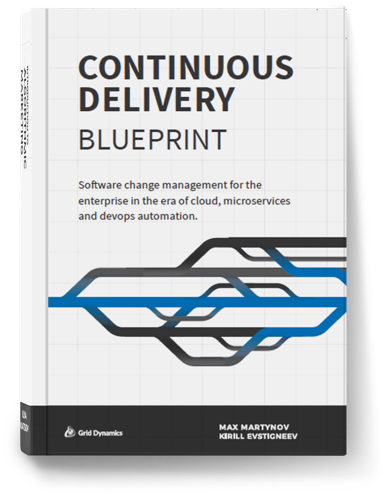 The right organizational team structure
It is easier and cheaper to achieve continuous delivery with the correct organization and team structure:
In service-oriented technology organizations, each team should provide their value "-as-a-service" with well-defined APIs, and should facilitate efficient collaboration.
Teams should be self-contained, cross-functional, and follow the two-pizza rule to determine their size. The team as a whole should have all the necessary skills to define, develop and release its product.
Microservices architecture
The ability to develop, test, deploy and release different services independently is a prerequisite for an efficient continuous delivery process. Monolithic applications with hundreds of developers working on a single, shared codebase significantly increases the difficulty of implementing continuous delivery.
Microservices architecture or well-designed service-oriented architecture imposes strict requirements on service contracts, increasing their isolation, improving their testability and enabling continuous delivery.
Fully automated development lifecycle
To achieve continuous delivery, all aspects of application development and the release lifecycle should be automated:
Functional, performance, security and stability testing.
Build and packaging.
Configuration management.
Infrastructure provisioning and application deployment.
Production operations and SRE.
Key features

High deployment frequency
Able to process multiple changes at a time in order to meet demand.

Full transparency
Changes in the pipeline are transparent, as are deployments in both the production and non-production environments.

Short lead time to change
A single change is fully verified and ready for production deployment within hours, or even minutes after the commit.

Auditability and high degree of control
Unapproved changes can't be put into production, and every deployed change can be traced back to its approver.

High quality
The chance of defects in production is low, and even when errors occur, changes can be reversed easily.

Low cost
The cost of non-production environments and the CI/CD infrastructure is manageable.

Short time to restore from failure
Can rollback to the previous working state in seconds, and avoid costly or disruptive failures.

Automated dependability
A totally automated pipeline ensures that there are significantly less human errors, or small but costly mistakes.

In addition to using open source tools, we contribute to open source technologies as well. We also have experience with other tools, including the Atlassian stack, the Microsoft stack and some innovative, but less known tools for certain specific use cases.
Our engagement model
Because we value a hands-on approach, we embed our architects and engineers into development and release teams to help with the tasks at hand from the beginning of the project. This help ranges from advising on the right organizational structure and choosing the right mix of roles and skills in a development team, to building a continuous delivery platform and automating the deployment and change management process. We understand enterprise change management, production operations and security policies.
Our approach is not to disrupt existing policies. But instead, we analyze current policies, come up with new processes and procedures and show that they can satisfy existing policies, compliance and audit requirements. In some cases, we may work on adjusting current policies as needed, but only after careful impact analysis. In the past, we've used this approach to build CI/CD for services and teams that have various compliance requirements, including PII, PCI and HIPAA.
Read more
How in-sprint QE automation improves code and accelerates development speed