Real-time analytics opens new use cases
Business problem
Increasingly, business intelligence systems that were once based on historic data, offline modeling and traditional reporting are being replaced by algorithms that operate on real-time data about customers and the world at large. These algorithms can power new applications that take advantage of real-time business opportunities and automated decision-making. Achieving this business transformation and new use-cases requires new technology that can process and analyze data in real time. If data is not processed in real time, businesses might be operating based on out-of-date data, which can lead to poor decisions.
Our In-stream processing experience
Over the years, we've helped many organizations jump-start their real-time projects. Quite a few of our solutions have grown into large-scale implementations, processing billions of events for applications ranging from fraud detection to real-time bidding marketplaces.
We've created a single reference architecture that details our complete end-to-end blueprint for an In-Stream Processing Service, based on lessons learned, best practices and proven configurations from our collective experience. It consists of 100% open source components, runs on any public cloud, and scales from developer sandboxes that can be spun-up at the click of a button, to always-on production configurations.
In-stream processing blueprint
Our In Stream Processing blueprint is a preintegrated stack of these technologies and functions
DevOps stack for in-stream processing
Deploying this platform on a dynamic cloud infrastructure so that it's available to its intended users is a nontrivial task. Our chosen technology stack contains these technologies:
Cloud: AWS
Deployment unit: Docker container
Container management: Mesos + Marathon
Bootstrapping Mesos + Marathon on bare cloud infrastructure: Ansible
Application management and orchestration of Docker containers over Mesos + Marathon: Tonomi
In-stream processing high level architecture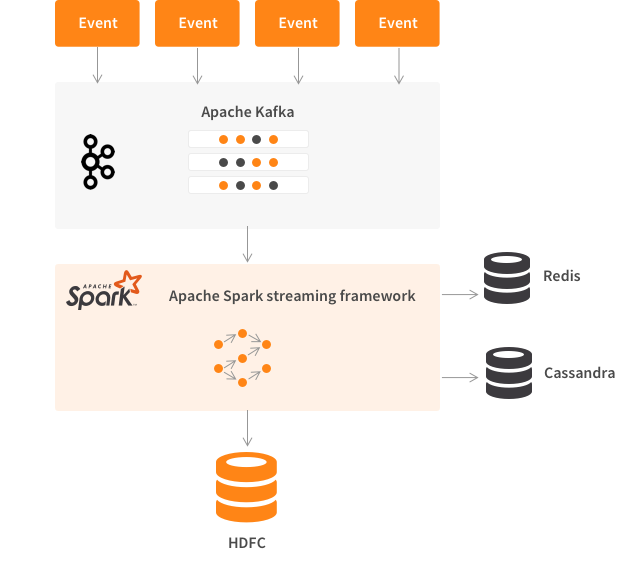 In-stream processing DevOps stack architecture
Stream processing features

High throughput
Our blueprint can process up to 100,000 events per second.

Low latency
It takes under 60 seconds to get from event to insight.

Fault tolerant
The computational platform is highly available and dynamically scalable.

Supports several methods of insight delivery
If there is a downstream system designed to handle a stream of insights, the results will be delivered via a message queue.

Interoperable with any big data platform
In-Stream Processing can be deployed as a stand-alone cloud service and integrated with Big Data platforms via APIs.

Composed of 100% free, open source software
All blueprint components are open source projects under active development by a large community of contributors.
Complete In-Stream Processing blueprint

How to build this
Grid Dynamics is here to help with architecture, design, implementation and operational support of In-Stream Processing platforms. Our services cover the full lifecycle for In-Stream Processing platforms, and include:
Business needs, analysis and recommendation on the selection of a technology stack
Recommendations on selection of a cloud provider, including cost estimation for the required infrastructure
Design of a continuous integration and continuous deployment (CI/CD) pipeline
Design for multi-datacenter deployment and disaster recovery
Development of dashboards for visualization, monitoring and reporting of In-Stream Processing results
Architectural supervision in instances of self-implementation on our blueprint
Read more
We did a whole series of blog posts on In-Stream Processing