Why outsource in Lviv, Ukraine? Lviv is home to more than 461 tech companies and 26,500 tech workers, 80% of whom are software developers. With more than 4,000 graduates joining Lviv's tech scene every year, Lviv's IT outsource services sector makes up 14.4% of GDP, which is approximately $280 to $300 million. More impressively, Lviv is the only Ukrainian city to have officially declared the tech industry as one of the key elements in the city's competitiveness strategy.
Still not impressed? Read on as we dig deeper into what makes Lviv an excellent destination to outsource your tech needs or to hire software developers in Ukraine.
---
21,000+ Software Developers in Lviv in 2020
Lviv is home to 26,500 out of more than 200,000 tech specialists in Ukraine. 80% of them are software developers and the remaining 20% occupy non-delivery or non-production positions.
37% of all software developers in Lviv are senior experts, 38.4% are middle, and 23.6% are junior programmers. Lviv has some of the best software developers in Ukraine.
Positions of Tech Specialists and Software Developers in Lviv
A team of investors coupled with the IT Association gathered around the idea that Lviv needs one umbrella IT Park that would suit 10,000 tech specialists. On 10 ha, the IT Park will locate innumerate modern offices, a park zone, and an educational hub.
5,000+ Entry-Level Software Developers in Lviv Graduate Tech Universities Every Year
There are seven higher education establishments in Lviv that offer technical and engineering training, with Ivan Franko National University of Lviv and Lviv Polytechnic National University being the leading providers of tech professionals.
Tech companies in Lviv closely collaborate with higher education institutions to increase the quality of education. Thanks to active engagements, students can learn about the latest technologies from the city's leading tech experts.
For instance, in Lviv Ivan Franko National University, students can attend the following courses:
Statistics and Data Science
Data Science and Intelligent Systems
Software Engineering
Data Science and Computer Science
Sensor and Analytical Systems
HR Management
Cybersecurity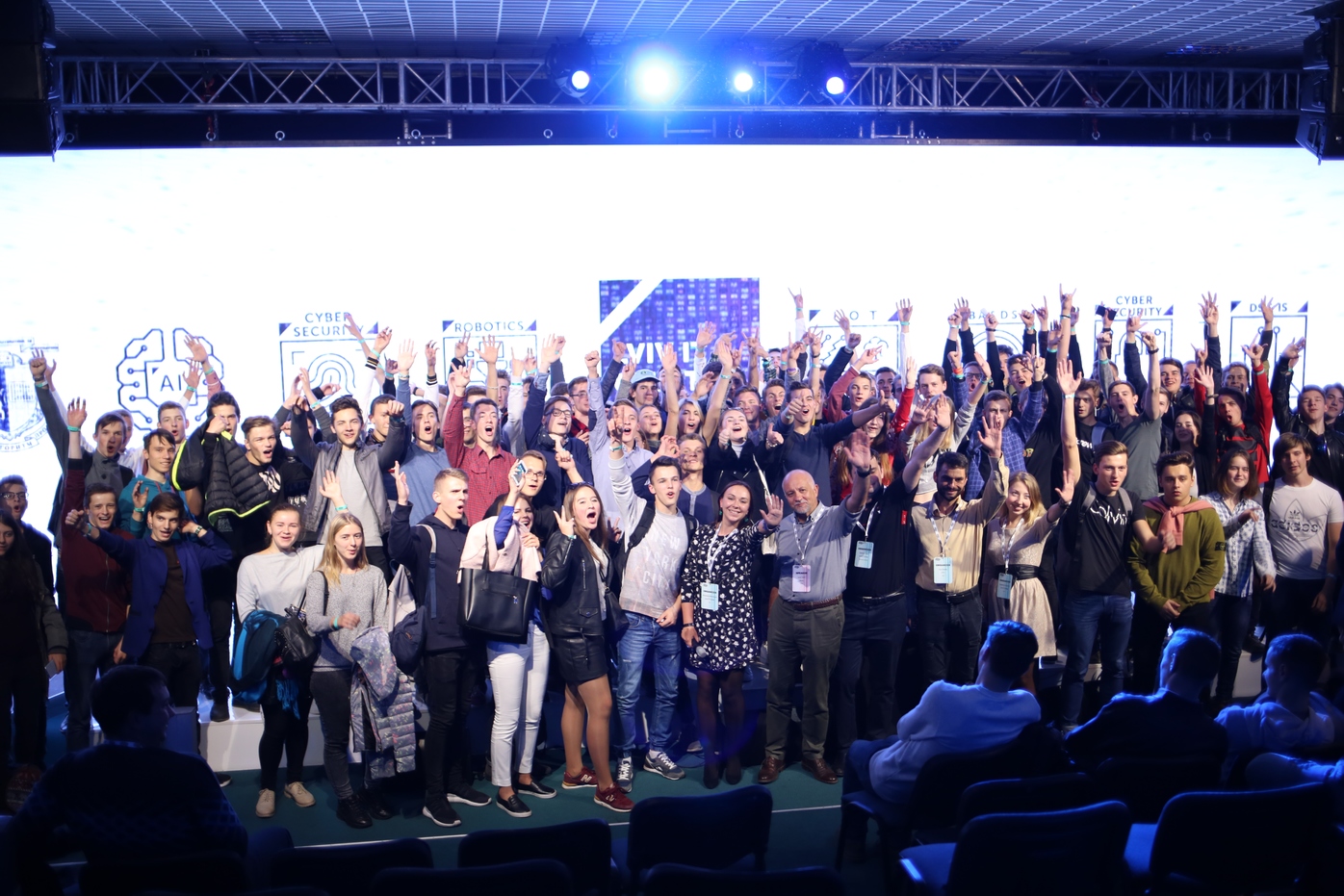 Future IT Outsourcing Specialists Graduating the LNU Statistics and Data Science or choose Lviv Polytechnic National University to learn about:
Robotics
Internet of Things
Cybersecurity
Artificial Intelligence
Business Analysis and Data Science
In addition to the city's universities and academies, there are plenty of smaller IT schools that provide high-quality education in software development, QA engineering, system administration, UI/UX and graphic design, project management, and many other specializations. These include LITS, Logos IT Academy, ITEA, SkillUp, IT Step School, and other schools.
Additionally, some of the larger tech companies have opened their own IT schools, like SoftServe IT Academy, that help them train exactly the kind of professionals they need.
492+ IT Companies to Outsource to in Lviv, Including 20 Product Companies and International R&D Offices
You can outsource to 90% of Lviv's IT outsourcing companies or hire software developers in Lviv through them. The majority of businesses that outsource to Lviv, Ukraine are located in North America (58%) and Europe (35%).
The remaining 10% consist of local and international product companies, including Siemens, Oracle, Gameloft, and TemplateMonster.
20% Annual Growth Rate of the Tech Industry in Lviv
According to the IT Research, the annual growth of the tech industry in Lviv has tripled in the last five years.
The IT outsourcing industry in Ukraine grows by 25% a year, and in Lviv the IT outsourcing services constitute 21% of the city's economy.
Ukrainian IT companies in Lviv generate between $658 and $718 million a year, creating additional workplaces in the adjacent industries.
For instance, in 2018, the IT sector in Lviv generated 63,000 and in 2019 — 71,000 jobs.
Vibrant Tech Community
With so many professionals living in the city, it's only natural that Lviv has a vibrant, diverse, and welcoming tech community. Here are a few of Lviv's largest and most prolific tech clubs and groups:
Lviv IT Cluster has brought together 100 companies that employ over 18,000 tech workers combined. The community actively promotes Lviv as a tech city on both the domestic and international level, supports local educational projects, and conducts regular research in the industry.
GDG Lviv is a community of developers who use Google technologies. They organize meetups and workshops in Android, Web, and Cloud development, as well as the annual GDG DevFest Ukraine conference.
Lviv StartUp Club supports local startup entrepreneurs and promotes the development of an innovative ecosystem in the city. The club hosts events that engage industry experts and investors, organizing monthly meetups for internet marketers, mobile and game developers, hardware engineers, and other tech specialists.
Aside from developer groups, there are also dedicated communities for QA engineers, CEOs, tech recruiters, and even teenagers looking to make their first steps in the tech sector.
Tech Events That Make Lviv a Perfect Destination to Outsource to
Lviv hosts a great number of tech events and conferences for a wide range of specialists. Here are some of the largest:
Lviv IT Arena, which takes place every autumn, is one of the most prominent IT events in Ukraine. The conference brings together over 2,500 developers, designers, top managers, entrepreneurs, business analysts, and startup founders.
IT — Synergy. IT Business & IT Education is the largest IT education conference in Ukraine that has been conducted for 7 years in a row. In 2020, the conference gathered 43 speakers and more than 1,189 attendants who tuned in on and offline.
GDG DevFest Ukraine is the largest conference in Central Europe dedicated exclusively to Google technologies. The next GDG DevFest will take place in April and is expected to attract more than 700+ participants as well as multiple international speakers.
GameDev Conference is the largest game event in Western Ukraine. The name says it all: the conference is for everyone interested in games, their development, and their promotion.
Workspaces Popular Among Software Developers in Lviv
There's no shortage of convenient business centers in Lviv, but if you don't feel the need to invest in your own office space right now, there are more than enough excellent coworking spaces that will provide you and your local team with all the necessary infrastructure. Here's our selection of top locations:
Startup Depot
Platforma Futura
Kontora, Co-working and Offices
ITEA Hub
coMMuna
iHUBLviv
OK Factory
Geographical and Cultural Proximity of Software Developers in Lviv
Among the many reasons to hire software developers in Lviv in particular and Ukraine in general, cultural compatibility is definitely one of the most significant ones. In terms of working practice, Ukraine's tech industry is very similar to that in the Western business world.
This is especially true in Lviv, from both a historical and geographical perspective. Throughout most of its 765-year history, Lviv has been part of Poland, Hungary, and Austria. Today, the city is less than 100 km away from the Polish border.
A 1 to 3 hour flight from Lviv can take you to multiple cities in Germany, Poland, Austria, Italy, Lithuania, Israel, Turkey, and further, with more international connections launching all the time.
Add in the lower tech salaries and cost of living in Lviv to the mix, and you get an excellent destination for starting your own tech business.
Grid Dynamics Will Help You Hire Software Developers in Lviv
Grid Dynamics is expanding its presence in Lviv. Our recruiters will help you find the right software engineers and other tech specialists for your projects.
Feel free to share your requirements with our sales representatives, and we'll do our best to help you get a strong team from Lviv.