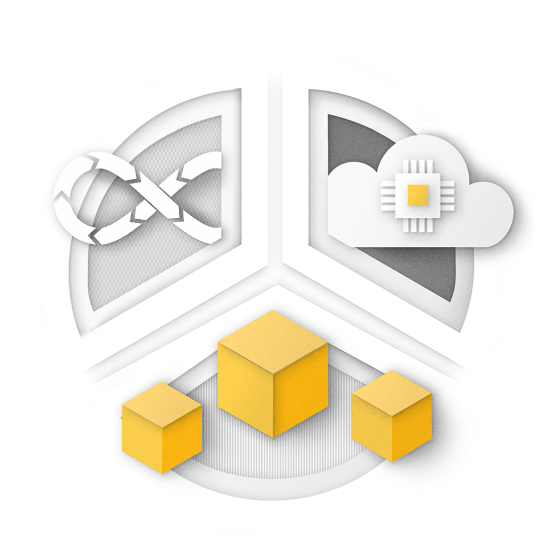 We help technology leaders plan and execute large modernization programs and improve the efficiency of engineering processes:
Reduce costs and improve agility using cloud solutions
Replatform legacy applications to open source
Improve the speed of delivery using microservice platforms
Improve operations using AI4Ops technologies
Implement advanced DevOps, MLOPs, and DataOps capabilities
Establish product-centric culture in the organization
Transform engineering and IT organization
Digital organization

Successful digital transformation is impossible without a highly productive team and a culture of continuous innovation. The gap from traditional IT organizations to digital teams is vast. The journey includes moving from functional silos to service-oriented organizations, where each team is a distributed cross-functional pod that uses product mindset to deliver features in customer experience, operational efficiency, data, insights, and infrastructure.

We help Fortune-1000 enterprises augment existing digital teams and inject digital-native culture, product mindset, Agile and DevOps mentality, and top engineering talent to transform and innovate.

DevOps process and culture

Each team within the successful digital organization is a highly productive pod that has all necessary skills and uses Agile and DevOps best practices to experiment, identify, develop, and deliver functionality at a fast pace without sacrificing quality and reliability. Agile and DevOps culture is in our DNA, and we help companies increase their delivery speeds to the market by a factor of 10: with continuous delivery processes using the highest-class tools and techniques.

Cloud infrastructure

Cloud has become a new standard for global enterprises. To truly embrace the cloud, companies have to change the mindset of how they structure the delivery teams as well as design, deploy, and operate applications. We help Fortune-1000 companies move to the cloud while modernizing their applications and data analytics, improving change management and support. While moving to the cloud, we establish continuous efficiency practices and processes to ensure that cloud costs stay under control and that companies use the cloud to the fullest extent.

World-class talent

Digital transformation requires new skills. For many companies, digital talent with the right culture and skills becomes the biggest bottleneck. By having engineering centers in the technology hubs in the US, Central, and Eastern Europe, we can afford to attract the top 10% of engineers from the market. With GridU educational programs, our engineers stay up to date with modern technologies. Our deep expertise in distributed engineering allows us to quickly assemble and scale the teams.
Industries
Fortune-1000 companies rely on us to transform their engineering and IT organizations by adopting a high-productivity digital culture and talent.
Retail
Retailers keep feeling pressure from digital-only competition, including giants like Amazon and new startup entrants. We work with Fortune-1000 US retailers to implement omnichannel digital customer experience platforms, AI-powered customer intelligence, analytical data platforms, and inject DevOps culture to continuously innovate.
Telecom
Large telecom companies need to boost their digital transformation by implementing modern digital customer experience, optimizing efficiency, and taking advantage of vast amounts of data to provide personalized engagement. We work with tier-1 global telecom companies to transform their IT organizations into highly productive digital teams.
Insurance and finance
Financial services companies, insurance providers, and banks are undergoing massive digital transformation efforts. From improving digital customer experience to advanced analytics or cloud migration, we help tier-1 companies in highly regulated industries bootstrap their transformation efforts with Agile co-innovation delivery models.
Manufacturing
Many manufacturing companies are beginning their digital transformation journey. We help Fortune-1000 manufacturing and CPG companies implement D2C platforms, optimize supply chains, and take advantage of data to improve operational efficiency, while building highly productive digital teams and injecting DevOps and Agile innovation culture.
Our latest thinking on engineering and IT
Our clients
Retail
Hi-tech
Manufacturing
Finance & Insurance
Healthcare
Accelerate your innovations
We provide flexible engagement options to design and build a customer intelligence and analytics solution for your enterprise. Contact us today to start with a workshop, discovery, or POC.
All digital transformation solutions
Get in touch
We'd love to hear from you. Please provide us with your preferred contact method so we can be sure to reach you.
Please follow up to email alerts if you would like to receive information related to press releases, investors relations, and regulatory filings.