Our B2B revenue management platform is engineered specifically for manufacturing and technology companies to take price optimization to the next level using advanced analytics and machine learning.
Strategy
Analyze competitive landscape
We create extensible price scraping solutions that collects price, promotion, and inventory information from dozens of sources. Our solutions are designed to easily integrate with new sources and data provides.
We provide advanced models and tools that help you to analyze the impact of competitor pricing on your business, as well as research the efficiency of competitors' campaigns and pricing strategies.
Strategy
Find the best strategy for each product
We develop analytical tools that help to deeply analyze your product portfolio and evaluate the current and potential performances of individual products, categories, and lines of business. These tools help to optimize product design and manufacturing decisions, pricing strategies, and promotion management processes.
Planning
Understand your revenue structure
Our analytical tools and dashboards enable comprehensive analysis of costs and profits, helping to control pricing decisions at all levels, harmonize promotion strategies across retail clients and partners, and detect hidden issues.
Planning
Overcome data limitations
Price optimization in B2B environments is challenging because of limited data availability and data quality issues. We overcome many of these limitations using unique machine learning methods that we developed over years of practical B2B price optimization. We leverage anomaly detection and imputation techniques to improve data quality, product similarity analysis based on images and textual descriptions to increase catalog coverage, and much more.
Planning
Evaluate pricing scenarios
Our B2B pricing solutions provide simple yet powerful interfaces for price and promotion optimization. You can evaluate various pricing scenarios in real time, getting a detailed forecast of profits and revenues as well as cannibalization, halo, and pull-forward effects.
Measurement
Measure ROI with confidence
Measuring the true ROI of pricing actions is challenging because of complete cross-effects such as cannibalization, halo, and pull-forward. These factors are often ignored in ROI calculations, which yields inaccurate or misleading results. We have extensive expertise in building ROI models that account for complex economic effects using statistical and machine learning methods.
Retail
Hi-tech
Manufacturing
Finance & Insurance
How our price optimization software works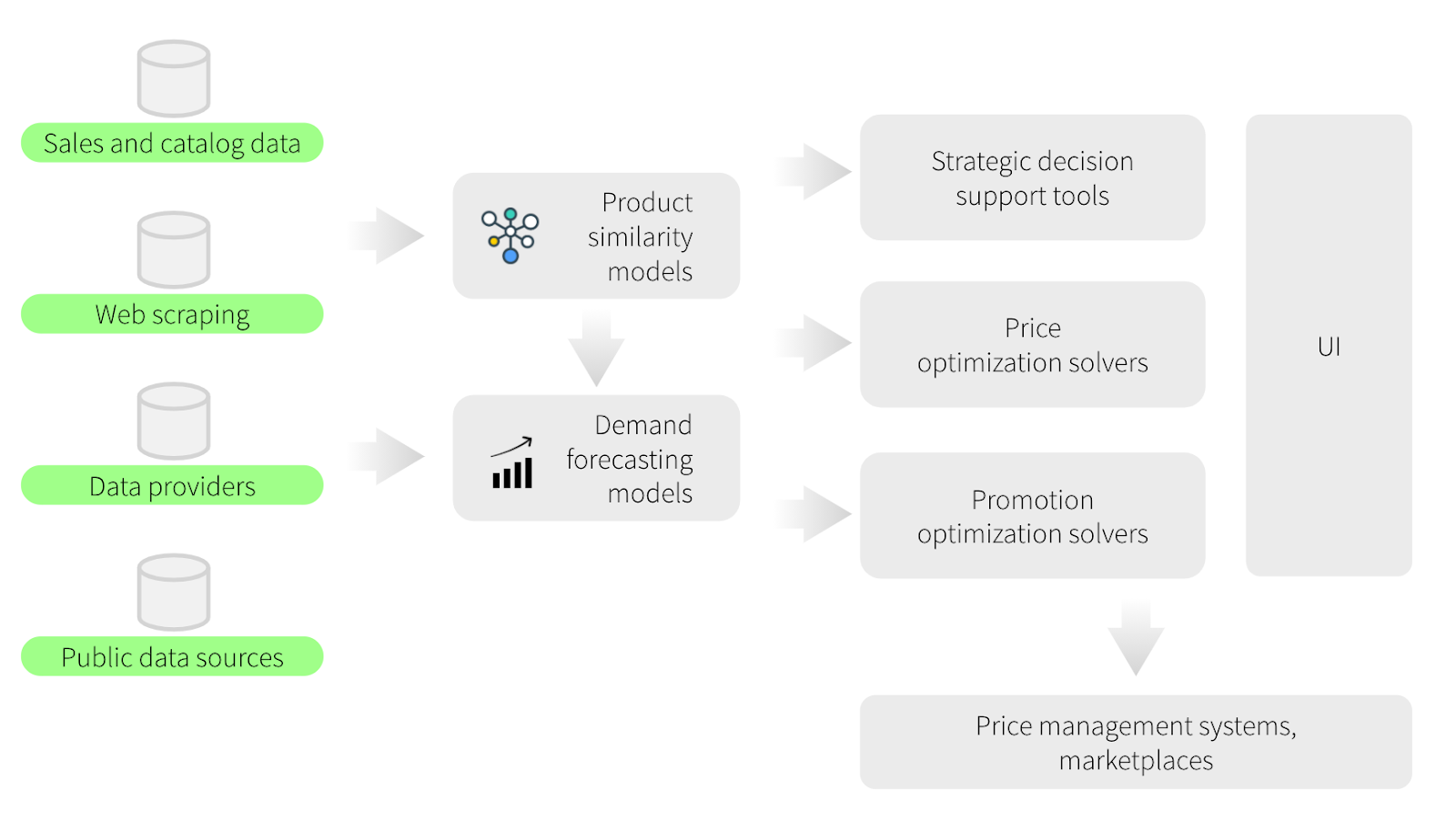 Product similarity models
We provide a wide range of product similarity and extrapolation models that help to overcome data limitations. These models use numerical, categorical, textual, image, and graph data to extend catalog coverage.
Scenario evaluation models and solvers
We build advanced scenario evaluation tools and optimizers on top of the demand forecasting models that support the joint optimization of price parameters for multiple products and time intervals.
Direct-to-consumer features
The optimization models produce feeds that can be integrated with price management systems, marketplaces, and retail partners. We also provide dynamic price optimization models and components that can be integrated with direct-to-consumer channels.
We provide flexible engagement options to help you build B2B pricing solutions faster. Contact us today to start with a workshop, discovery, or proof of concept.
Learn more about price optimization models
A guide to dynamic pricing algorithms
This article is a deep dive into dynamic pricing algorithms that use reinforcement learning and Bayesian inference ideas and were tested at scale by companies such as Walmart and Groupon. We focus on the engineering aspects through code snippets and numerical examples; theoretical details can be found in the referenced articles.
Predictive analytics for promotion and price optimization
Pricing decisions are critical for any business, as pricing is directly linked to consumer demand and company profits. In this blog post, we demonstrate a reference implementation of a price management tool for effective price optimization using AI and machine learning methods.
Read more on B2B price optimization
This white paper describes the functional design of a price intelligence platform that extensively uses data science and machine learning methods to provide state-of-the-art decision support and decision automation capabilities. This white paper covers the following aspects of pricing analytics and revenue management:
Advanced decision support systems for strategic pricing analytics.

Predictive and prescriptive analytics for the optimization of pricing actions.

Automatic decision-making components for near real-time and personalized price optimization.

Advanced statistical analysis for the measurement and decomposition of observed sales and demand data.
We have made this report publicly available to help practitioners create sound pricing strategies and implement effective price optimization models and tools.
If you have any additional questions, please feel free to reach out to our experts directly
More enterprise AI solutions
Get in touch
We'd love to hear from you. Please provide us with your preferred contact method so we can be sure to reach you.
Please follow up to email alerts if you would like to receive information related to press releases, investors relations, and regulatory filings.